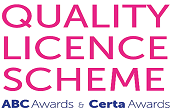 Warehouse Management Course
If you're serious about building a rewarding career in warehouse management, now's your chance to make it happen! Enrol online with Oxford Home Study Centre, for the chance to earn an endorsed Level 5 Warehouse Management Diploma! Whether new to warehouse management or already working in the field, this exclusive warehouse management course could help you take that next big step! Explore the functions and objectives of warehouse operations at an advanced level, along with the duties and responsibilities of key warehousing personnel. Examine a detailed breakdown of the warehouse inventory cycle, the fundamentals of effective warehouse material handling and the importance of accurate inventory tracking. Enjoy the freedom to study from any location at a pace that suits you, with complete tutor support from start to finish! With our exclusive warehouse management courses online, this dynamic sector could be yours for the taking!
Why Study Warehouse Management?
Warehouse managers oversee a variety of essential operations for large and small businesses alike. A key contributor to successful supply chain activities, the warehouse manager oversees asset tracking, inventory management, logistics, workforce performance and more. For any business that makes use of warehousing facilities - in-house or otherwise - expert warehouse management is essential. Worldwide, supply chains and general inventory management processes are becoming more complex by the day. The result of which is growing demand for talented warehouse management personnel among employers and decision-makers at all levels. If you have the ambition and determination to succeed as a warehouse manager, this advanced Level 5 Warehouse Management Diploma could take you the rest of the way!
Oxford Home Study Centre is proud to offer the web's most flexible and accessible online study programmes. Our popular Level 5 Warehouse Logistics Training Courses are delivered over a series of eight engaging units, which conclude with online assessments your tutor will mark and return:
Unit 1 - Introduction to Warehouses
The course begins by exploring the functions and objectives of warehouses and corresponding warehousing operations. Candidates consider the benefits and challenges of automated warehousing, the potential benefits of public warehouses and the various factors that need to be considered when choosing the size and nature of a warehouse.
Unit 2 - Types of Warehouses
Unit two discusses the various different types of warehouses, along with key points to consider when choosing the location of a warehouse. The benefits and drawbacks of private warehousing facilities are discussed, along with the five different classifications of warehouses and an introduction to the concept of the 'qualitative factor rating'.
Unit 3 - Functions of Warehouses
The primary functions of a warehouse are then presented and examined in the third unit, which introduces candidates to the concepts of information transfer and warehouse activity profiling. The pros and cons of cross-docking are also discussed, along with common scenarios in which semi-permanent storage represents a viable option.
Unit 4 - Warehouse Operations & Systems
Learners then examine the key differences between centralised and decentralised warehousing operations, along with the most important factors to consider when choosing an appropriate storage system. The different types of conveyor systems are also introduced, along with the growing prevalence of automated storage and retrieval systems in warehouse settings.
Unit 5 - Warehouse Inventory Management
A crash-course introduction to effective inventory management follows in unit five, in which candidates consider the criticality of accurate and consistent inventory management. The consequences of poor inventory management are also discussed, along with the concept of safety stock and its role in warehousing operations.
Unit 6 - The Warehouse Inventory Cycle
Unit six presents a detailed breakdown of the warehouse inventory cycle, while also guiding candidates through the process of setting safety stock levels. The importance of maintaining inventory accuracy is considered once again, along with the four stages all products go through on their journey to purchase/consumption.
Unit 7 - Warehouse Inventory Tracking
The objectives and limitations of inventory tracking are considered in unit seven, which also provides a detailed introduction to the functions and benefits of barcoding. The use of Radio Frequency Identification as an alternative to barcoding is also discussed, along with the various components required to set up and use a barcoding system.
Unit 8 - Warehouse Material handling
Concluding the course, unit eight details the functions and objectives of Materials Handling Systems (MHS) in warehousing operations. The benefits and disadvantages of powered and non-powered hand trucks are discussed, along with the growing popularity of semi-automated handling systems and the importance of managed product handling procedures.
For more information about our Warehouse Management certificate/diploma courses and Free Supply Chain Management Courses, get in touch with the OHSC admissions team today.
Paying in Instalments: £640(interest FREE Instalments)
Deposit: £160
No of Instalments: 12
Each Instalment: £40
Pay in Full: (£100 Discount) £540
At the end of this course successful learners will receive a Certificate of Achievementfrom ABC Awards and Certa Awards and a Learner Unit Summary (which lists the components the learner has completed as part of the course).
The course has been endorsed under the ABC Awards and Certa Awards Quality Licence Scheme. This means that Oxford home study centre has undergone an external quality check to ensure that the organisation and the courses it offers, meet defined quality criteria. The completion of this course alone does not lead to a regulated qualification* but may be used as evidence of knowledge and skills gained. The Learner Unit Summary may be used as evidence towards Recognition of Prior Learning if you wish to progress your studies in this subject. To this end the learning outcomes of the course have been benchmarked at Level 5 against level descriptors published by Ofqual, to indicate the depth of study and level of demand/complexity involved in successful completion by the learner.
The course itself has been designed by Oxford home study centre to meet specific learners' and/or employers' requirements which cannot be satisfied through current regulated qualifications. ABC Awards/Certa endorsement involves robust and rigorous quality audits by external auditors to ensure quality is continually met. A review of courses is carried out as part of the endorsement process.
ABC Awards and Certa Awards have long-established reputations for providing high quality vocational qualifications across a wide range of industries. ABC Awards and Certa Awards combine over 180 years of expertise combined with a responsive, flexible and innovative approach to the needs of our customers.
Renowned for excellent customer service, and quality standards, ABC Awards and Certa Awards also offer regulated qualifications for all ages and abilities post-14; all are developed with the support of relevant stakeholders to ensure that they meet the needs and standards of employers across the UK.
Career opportunities for qualified and capable warehouse managers are wide-open. It's worth remembering that every manufacturer, supplier and retailer in the world relies on effective and efficient warehousing operations. Upon completion of this advanced Level 5 Warehouse Management Diploma, candidates will have the opportunity to pursue a diverse range of roles with established organisations worldwide. To become a noted and respective leadership figure in warehousing and logistics is to enjoy limitless career prospects for life. Typical salaries in the field of warehouse management starting at around£20,000.
Who Should Take This Course?
This endorsed Level 5 Warehouse Management Diploma is available exclusively at Oxford Home Study Centre. Designed by a team of leading academics in conjunction with experienced industry veterans, our most advanced Warehouse Management Diploma is ideal for the following applicants:
Ambitious candidates pursuing top-level leadership roles

Members of the workforce looking to climb the career ladder

Business owners, managers and senior warehousing personnel

Anyone looking to boost their long-term outlook

Jobseekers working on their CVs and employment prospects

Newcomers to warehouse management (no experience required)
A strong and relevant educational background could transform your career prospects for life in the field of warehouse management. Sign up online for immediate enrolment, or contact the admissions team at Oxford Home Study Centre for more information!