What is Supply Chain Management and What Are the Benefits of Strategic Supply Chain Management?
Across all sectors worldwide, the vast majority of businesses are reliant on effective and efficient supply chain operations. Today, it is exceptionally rare to encounter an organization of any kind that is 100% self-sufficient.
But what exactly does 'supply chain management' mean from a contemporary business perspective? More importantly, to what extent can the modern business benefit from strategic supply chain management?
What is Supply Chain Management?
Roughly defined, supply chain management refers to the organisation and supervision of the flow of goods, services and information - beginning with the sourcing of raw materials and ending when the finished product or component reaches its final customer.
For the supply chain manager, the challenge lies in actively and continuously streamlining and simplifying all supply chain activities from start to finish, in order to maximise output, reduce costs and boost overall efficiency.
Some supply chain managers focus their efforts on one specific link within the supply chain, while others provide expert input and supervision on a much broader scale.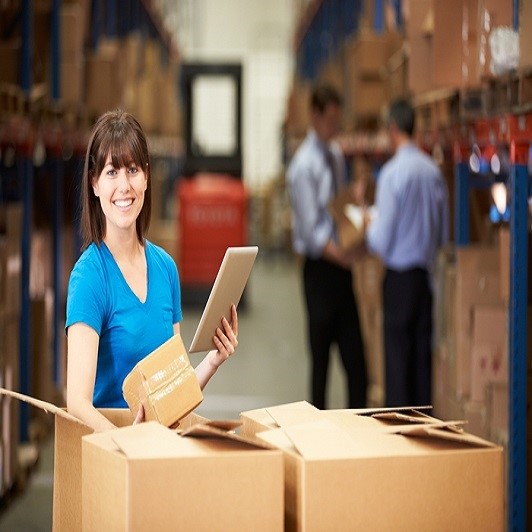 How Supply Chain Management Works
The longer and more complex the supply chain, the greater the importance of effective supply chain management. Cliché as it may be, it is nonetheless true to say that all supply chains are only ever as strong as their weakest link.
Should any link within the supply chain fail to perform with consistent efficiency and reliability, the entire system may come to a grinding halt.
Supply chain management is based on the premise that almost all products and services across the board reach their intended users as a result of various third-parties working together to form a cohesive and viable supply chain. Though each supply chain is unique to the organisation in question, there are five basic components within the typical supply chain as follows:
The initial supply chain strategy or plan

Sourcing of raw materials or services

Manufacturing of products or components

Logistics and delivery operations

Reverse logistics for unwanted or defective products
This is, of course, a highly simplified summary of the true complexities of supply chain operations. Throughout each stage, it is the responsibility of the supply chain manager to recommend and implement improvements to enhance quality, productivity, efficiency and consistency.
In doing so, the supply chain manager makes a direct and extensive contribution to both the performance and prosperity of the organisation they work for.
What Exactly is a Supply Chain?
Again, supply chains (and supply chain activities that take place) vary significantly from one organisation to the next. Using a typical manufacturing context to illustrate how supply chains work, it's a case of mapping the journey of the products from start to finish:
The raw materials are sourced by an established company

Third-party logistics are used to transport the materials

A factory receives the materials to enable manufacturing

The manufactured products are shipped to a retailer

The retailer sells or delivers the goods to the customer
Even in this simplified example, the failure of just one link within the supply chain to perform efficiently and consistently would jeopardise the entire operation. This is why one of the most important aspects of successful supply chain management is the strategic and careful selection of suppliers, vendors, service providers and so on.
The Benefits of Supply Chain Management
Irrespective of the size and nature of the organisation, effective supply chain management can have an enormous impact on performance and profitability. It can also influence the reputation and authority of the organisation, measured in accordance with reliability, responsibility and consistency.
Specifically, the more quantifiable benefits of supply chain management include the following:
Faster production of finished items

Easier budgeting and cost control

Cost-effective manufacturing

Simplified inventory management

Brand authority and reputation

Superior supplier relationships

Elimination of stock shortages

Greater consistency of finished products

All-round reduction of outgoings

Improved customer satisfaction
The benefits of supply chain management are universal, extending to any organisation that isn't 100% self-sufficient. As the overwhelming majority of businesses worldwide depend on other businesses to function, effective supply chain management is an absolute must for almost all businesses.
Supply Chain Management Career Opportunities
With such wide-reaching benefits that extend to all industries and sectors, employers are always on the lookout for talented supply chain managers to add to their ranks. From entry-level warehouse operatives through to senior supply chain executives, each and every link in the supply chain plays a role of enormous importance.
Just a few examples of the more typical job titles in the field of supply chain management include the following:
Account Manager

Business Analyst

Buyer

Contracts Manager

Dispatcher

Distribution Manager

Distribution Supervisor

Director, Logistics & Distribution

Logistics Director

Logistics Manager

Operations Manager

Operations Planner

Plant Manager

Pricing Analyst

Procurement Manager

Project Manager

Project Procurement Specialist

Purchaser

Rate Coordinator

Transportation Coordinator

Transportation Manager
Careers in supply chain management and logistics are ideal for critical thinkers with a relentless eye for detail and a tenacious attitude. An appropriate educational background is also considered mandatory, as employers will expect to see evidence of your knowledge and understanding of key supply chain management issues.
Supply Chain Management Courses at OHSC
Whether new to supply chain management or ready to take an existing career a step further, you'll find our flexible online courses ideal. Oxford Home Study Centre is proud to offer an extensive range of endorsed supply chain management courses at a variety of levels, open for enrolment 365 days a year.
Study in your own time and at your own pace, with expert tutor support available on demand. Browse our complete collection of supply chain management courses online, or contact a member of our admissions team anytime for more information.
Oxford Home Study has developed various courses, some are these are offered as free starter courses. You can choose a free Supply Chain course to start with.