What is eLearning and Who is it For?
Connected technology has radically and permanently altered the face of education for millions of people worldwide. All over the world, pupils and students of all ages are now actively encouraged to use the Internet to enhance and improve their educational experience.
But what is eLearning and what is its significance in the future of education? Why is it that many academics and industry watchers worldwide see eLearning as the future of all learning for future generations?
eLearning Definition
The term 'eLearning' refers to the delivery of education and training through digital resources. Rather than attending lectures and classes in the conventional sense, eLearning uses modern technology to connect pupils and students with course content, learning resources and qualified tutors.
Theoretically, eLearning has the potential to eliminate all restrictions and barriers (geographic and otherwise) from the provision and pursuit of education for the masses. While some continue to dispute the potential for eLearning to take over as the new educational standard, the growth and development of the industry is proving no less than remarkable.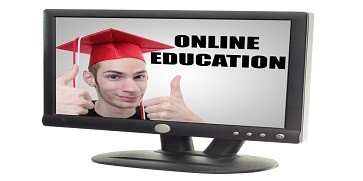 eLearning Meaning and Relevance in Contemporary Education
Clayton Christensen, a professor at Harvard Business School, recently predicted that one in every two conventional colleges could be out of business within 10 years. His projections were formed on the basis of the growing prominence and popularity of online colleges, along with the availability and affordability of courses for candidates worldwide.
While the likelihood of eLearning replacing all traditional classroom activities remains low, there are numerous benefits to the 'new face' of education.
Explore various free courses on our website. You can even take a start with one of our Free Elearning Courses today.
The most important examples of which being as follows:
1. Almost every household has access to online education
Shy of a few basic essentials, all anyone needs to access a world of incredible educational opportunities online is a home computer and an Internet connection. It's even becoming possible to study from almost any connected mobile device, creating history's most accessible educational platform for millions of prospective students worldwide.
2. Online learning favours flexibility
The fixed study schedules and general formality of conventional classroom education can be off-putting for some. Particularly when a person is already juggling a hectic schedule, the idea of returning to traditional studies could be entirely out of the question. What makes the difference with eLearning is the elimination of deadlines and time restrictions from the equation. Or at least, the freedom for those taking part to study at a time and pace that suit their lifestyle.
3. Candidates are no longer denied tutor support
One of the biggest benefits of traditional classroom education is the direct input of and interaction with a qualified tutor. Something that was previously out of the question with distance learning, though is now made available by the vast majority of leading online colleges. Whether it's exchanging emails and WhatsApp messages or conversing in real-time via Skype video chat, distance no longer poses a problem where tutor support is concerned.
4. Online education is comprehensively affordable
One of the most off-putting aspects of traditional education for many prospective candidates has always been the costs. Online education provides colleges and institutions with the ability to offer quality distance learning opportunities with minimal overheads. All of which results in significant savings, which can be passed directly on to those taking the courses. Hence, an online course can cost anything up to 90% less than a comparable classroom course.
5. Location and accessibility issues are rendered obsolete
Choosing a course and a college has traditionally been as much about location and accessibility as the quality and relevance of the course itself. Increasingly, major colleges and universities worldwide are launching their own unique catalogues of distance learning programmes with few (or no) geographic restrictions. The convenience and accessibility of eLearning also extends to the elimination of all travel requirements and supplementary expenses.
6. Year-round enrolment, no fixed timetables
In addition, many online colleges and eLearning institutions allow candidates to enrol throughout the year, with no fixed timetables whatsoever. This translates to the freedom to get started at any time, study at an appropriate pace (for the student in question) and complete the course as quickly or gradually as preferred. Again, an appealing alternative to formal classroom studies for individuals with existing commitments and responsibilities.
The Future of Flexible Education
For the time being, it remains highly unlikely that eLearning will take over as the new educational standard worldwide. However, the potential for eLearning to sit alongside conventional education as an equally popular and viable alternative is already being recognised.
Above all else, it's quality of the course and the provider that makes the difference - not the method by which the materials, tutor support and course content are accessed. Hence, eLearning provides the opportunity for candidates worldwide to access flexible and accessible education at rock-bottom prices, without compromising on quality.