What is a Teaching Assistant?
A teaching assistant - sometimes defined as a teacher's helper - assists the main class instructor. The services they provide help teachers focus more of their attention on educational activities. The teaching assistant's responsibilities encompass both secretarial and educational tasks.
TAs can be hired by a local council and work in different schools, or they could be hired to work in a specific school. They use their diverse knowledge and abilities in a variety of classroom settings and in other educational contexts.
A teaching assistant supports the teacher in charge of a class, providing a variety of supplementary services as requested by the teacher. The TA's daily responsibilities may include administrative activities such as attendance checking, marking assignments, overseeing tests and generally supporting pupils as they study.
They also assist with the monitoring of kids' conduct in the classroom, corridors, canteen, playgrounds, and on school trips. Some specially trained teaching assistants provide additional support for children with special needs, and those who require more support with schoolwork.
Responsibilities and Skills for a Teaching Assistant
A teaching assistant provides pupils with support under the instruction of the primary teacher. They will often provide support for the entire class as a group, while also helping individual pupils on a one-to-one basis. Additional practical duties performed by a teaching assistant may include setting up apparatus and preparing materials for the day's lessons, along with basic cleaning and tidying at the end of the day.
A teaching assistant must be patient, enjoy working with children and be able to multitask at the highest level. They must also have strong verbal communication and writing skills - a good working knowledge of a second language can also be advantageous. Basic first aid training is required in some schools for all teaching assistants, though is not mandatory elsewhere.
Other responsibilities that may be assigned to a teaching assistant include:
Offering assistance in the classroom, such as arranging classroom supplies

Standing in for other staff in the case of absence

Providing personalised educational activities designed by the teacher, whether in a group setting or one-on-one.

Supervising the performance and behaviour of pupils to ensure tasks are completed appropriately and in a timely manner

Encouraging kids' socialisation and taking note of any issues in accordance with school policies and expected norms

Handling instances of difficult behaviour in the classroom and bringing problems to the attention of the teacher

Providing feedback to the teacher on pupils' progress

Organising and taking part in parents' evenings and similar activities
Salary of a Teaching Assistant
As there is no standard level of pay for teaching assistants, salary and conditions of employment will differ from one employer to the next.A TA's salary varies depending on their exact role, the responsibilities they take on and the specific educational setting. Many TAs are employed on part-time or term-time only contracts, so pay can be lower than for full-time teachers.
However, the largest percentage of teaching assistants work full-time, on the basis of an annual salary. One of the most appealing aspect of becoming a teaching assistant is the way in which most TAs enjoy the same time off as teachers - including the long summer break.
Initial pay rates for level 2 TAs range between £18,000 and £20,000 per year.

Experienced teaching assistants are typically receive up to £21,000 per year with added duties and higher-level credentials.

HLTAs can expect to receive around £21,000 and £25,000 per year.

TAs who work on a routine basis might make from £40 to £60 per day, or up to £9 per hour.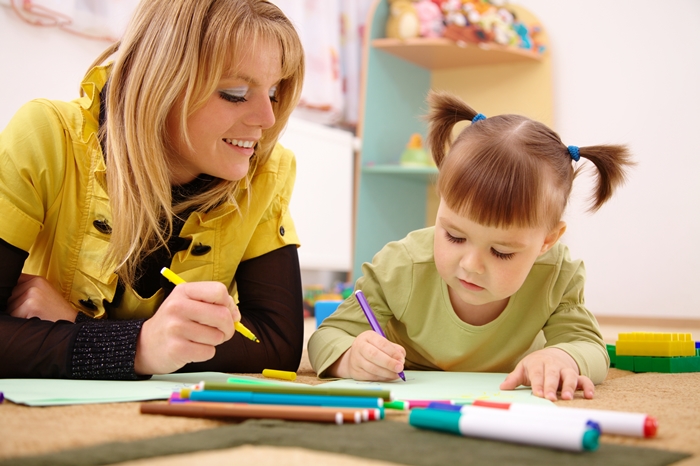 Qualifications Required to Become a Teaching Assistant
Employers will expect to see evidence of relevant experience and an appropriate educational/training background, when looking to hire a new teaching assistant. Expertise in areas such as mental health in children, and special educational needs (SEN) can also give candidates a major edge when applying for TA roles.
GCSEs in Mathematics and English with a grade of C or above are the only formal requirements for becoming a teaching assistant in the United Kingdom. This subsequently means that TA positions are highly competitive, so ensuring that you have the appropriate qualifications on your CV is important.
There are four levels of teaching assistants from entry to higher level, depending on the expertise, certifications, and training of the individual in question. A Higher-Level Teaching Assistant (HLTA) is a more senior teaching assistant with greater responsibilities like supervising staff, planning lessons and leading classes.
There are a variety of TA certifications and courses that can be taken to demonstrate competence and proficiency as a candidate. The more accomplishments and endorsed award you have on your CV, the more likely you are to get the job as a TA.
Teaching assistants can earn the following certifications, for example:
Level 2 Award in Support Work in Schools

Level 3 Teaching Assistant Diploma

Level 2 Certificate in Supporting Teaching and Learning in Schools

Level 2 Teaching Assistant Certificate

Level 3 Award in Supporting Teaching and Learning in Schools

Level 3 Certificate in Supporting Teaching and Learning in Schools

Level 3 Diploma in Specialist Support for Teaching and Learning in Schools
Explore various free courses on our website. You can even take a start with one of our Free Teaching Assistant courses today.
Working Experience for a Teaching Assistant Job
Although teaching assistant positions differ, it is preferable to have appropriate job experience. Experience may involve work in the following fields:
Taking care of children

Previous work experience in a school environment

Working in a children's nursery

Running or coaching sports activities

Tutoring students

Working with teenagers

Helping with local community activities
How to know if you're a good fit?
The most crucial requirement to become a teaching assistant is that you enjoy working with children. Nevertheless, you will also need:
Total commitment to the safety and well-being of students.

Since you'll be dealing with students from various cultures, you will be expected to embrace and celebrate their differences.

The ability to encourage, motivate, and create bonds with children, as well as a respectable attitude towards work and a positive approach when dealing with children.

To be able to build relationships with students, parents and teachers requires interpersonal skills.

You'll be participating in a variety of school-related activities such as reading, writing, painting, and science projects, so you'll need to be adaptable at work.